please contact artist directly from the artists webpage.
for other inquiry relating to saphan's work
SAPHAN AT GMAIL DOT  COM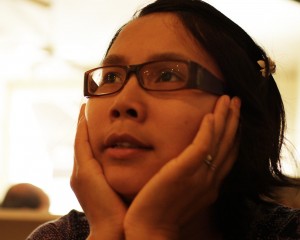 LinDa Saphan was born in Phnom Penh, Cambodia. Fleeing the Khmer Rouge regime, she lived for more than two decades in Canada and France. In 2005, Saphan co-founded Visual Arts Open in Phnom Penh and she established the "Selapak Neari" program in 2006, providing workshops, networking opportunities, and an exhibition space for emerging artists. As a visual artist, Dr. Saphan's work has been included in several collective exhibitions throughout Cambodia, Myanmar, Kenya, Hungary, Singapore, France, and the US. Saphan earned a PhD in Sociology from the Sorbonne in 2007. Saphan is also an associate producer and head researcher for the documentary film directed by John Pirozzi Don't Think I've Forgotten: Cambodia Lost Rock and Roll released in 2014. The film tracks the twist and turns of the political turmoil of Cambodia's modern history through the lens of rock and roll.  She is currently an Assistant Professor of Sociology at the College of Mount Saint Vincent.