Don't Think I've Forgotten: Cambodia's Lost Rock and Roll. Released 2014
107 min. English, French and Khmer. www.dtifcambodia.com.
Dedication Don't Think I've Forgotten is dedicated to the resiliency of the Cambodian people.
Synopsis
During the 60's and early 70's as the war in Vietnam threatened its borders, a new music scene emerged in Cambodia that took Western rock and roll and stood it on its head – creating a sound like no other.
Cambodian musicians crafted this sound from the various rock music styles sweeping, America, England and France, adding the unique melodies and hypnotic rhythms of their traditional music. The beautiful singing of their renowned female vocalists became the final touch that made this mix so enticing.
But as Cambodian society - young creative musicians in particular - embraced western culture and flourished under its influence, the rest of the country was rapidly moving to war. On the left, Prince Sihanouk joined forces with the Khmer Rouge and rallied the rural population to take up arms against the government that deposed him. On the right, the Cambodian military waged a war that involved a massive aerial bombing campaign on the countryside. In the end, after winning the civil war, the Khmer Rouge turned their deadly focus to the culture of Cambodia.
After taking over the country on April 17, 1975, the Khmer Rouge began wiping out all traces of modernity and Western influence. Intellectuals, artists and musicians were specifically and systematically targeted and eliminated. Thus began one of the most brutal genocides in history, killing an estimated two million people – a quarter of the Cambodian population.
DON'T THINK I'VE FORGOTTEN: CAMBODIA'S LOST ROCK AND ROLL tracks the twists and turns of Cambodian music as it morphs into rock and roll, blossoms, and is nearly destroyed along with the rest of the country. This documentary film provides a new perspective on a country usually associated with only war and genocide.
The film is a celebration of the incredible music that came from Cambodia and explores how important it is to Cambodian society both past and present.
John Pirozzi, 2014
Credit
Director | Cinematographer: John Pirozzi
Producers: John Pirozzi, Andrew Pope
Executive Producers: Youk Chhang, Brad Bessire, Jonathan Del Gatto
Editors: Daniel Littlewood, Greg Wright, Matt Prinzing
Associate Producer / Lead Researcher LinDa Saphan
Composer: Scot Stafford
A production by Harmony | Primitive Nerd | Pearl City
Additional Production Services Provided by The Documentation Center of Cambodia (DC-Cam)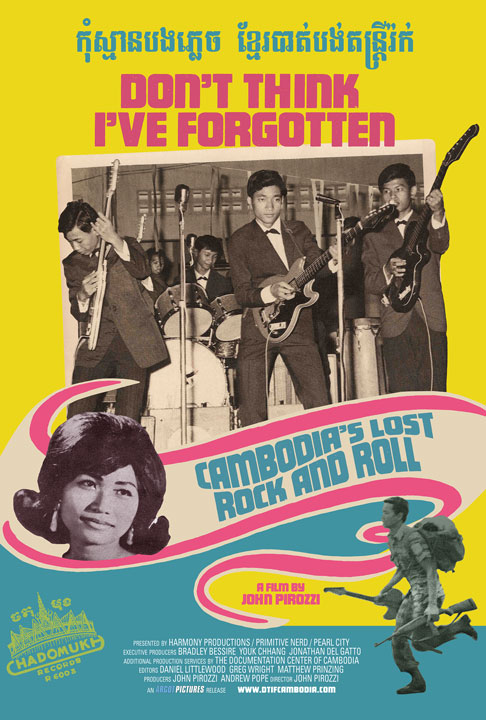 Cambodian Provincial Tour 2016-2017 of Don't Think I've Forgotten: Cambodia's Lost Rock and Roll Screening locations:
Battambang Province, Wednesday, December 21, 2016
Siem Reap Province, Saturday, December 24, 2016
Ratanakiri Province, Wednesday, December 28, 2016
Mondulkiri Province, Friday, December 30, 2016
Stung Treng Province, Tuesday, January 3, 2017
Kandal Province, Sunday, January 8, 2017
Kampot/Kep Province, Tuesday, January 10, 2017
After each screening, Q&A with director/producer John Pirozzi and associate producer/lead researcher Dr. LinDa Saphan.
On January 11, 2014 Don't Think I've Forgotten premiered at the historic Chaktomuk theater in Phnom Penh. Directly following the screening a live concert featuring surviving musicians from the film took place. This entire event was made possible with the support of Documentation Center of Cambodia and the US Embassy in Phnom Penh.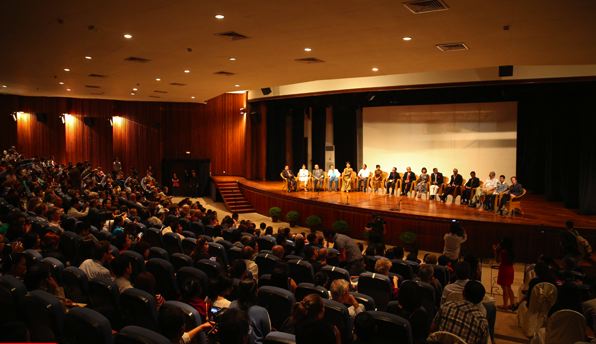 The film will have its theatrical premiere at Film Forum in April 2015. The DTIF theatrical premiere concert line up is officially in place! Our goal has always been to create a concert that fully represents the broad scope of 60s/70s era Cambodian Pop and Rock, much like our film. It is now OFFICIAL that on April 24th at The City Winery the world gets to hear:
1 - The first Cambodian guitar band, Baksey Cham Krong. Three of the original four members will perform together for the first time since since 1967! They were the high school band that got all the kids dancing as early as 1962!
2 - Sinn Sethikol - His grandfather, Sinn Sisamouth, is still considered to be the greatest Cambodian singer of all time, producing thousands of songs before disappearing during the Khmer Rouge era. Sinn Sethikol will sing some of his grandfather's most beloved songs including the film's namesake, Don't Think I've Forgotten.
3 - Cambodia's original hard rock band, The Drakkar. Influenced by Deep Purple, The Rolling Stones and Santana, these guys can really shred a guitar. Three of the original four band members will perform.
4 - Minh Sothiwan - Accomplished singer/guitarist Minh Sothiwan will perform songs by the legendary 70s rebel Yol Aularong, such as Cyclo and Navany. Aularong also disappeared during the Khmer Rouge.
5 - Chhom Nimol. Nimol's is the front woman for the popular band Dengue Fever, and the perfect talent to pay tribute to Cambodia's great female singers, Ros Serey Sothea and Pen Ran by performing their songs.
This concert will provide the audience with the broad scope and amazing diversity that is Cambodian rock and roll. We hope to make it happens for Lowell, MA and Washington D.C. too.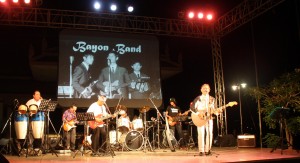 For more information visit the film website or follow us on Facebook.
www.dtifcambodia.com
.
www.facebook.com/CambodianRock
.
www.dtifcambodia.com/#!trailer/c1t44>/a>.