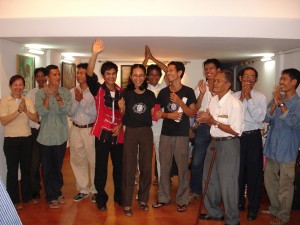 The 2005 Visual Arts Open festival, curated by LinDa Saphan and Sopheap Pich, featured 19 Cambodian artists who work and live in Cambodia. The purpose of the festival was to bring to the public the best of Cambodian contemporary art and to create a sense of community among artists across different media.
Saklapel (slang for selapak, meaning "artist") promotes prominent Cambodian artists in Cambodia and abroad. The Saklapel team embarked on a search for artists, meeting visual artists of different generations to discuss their works and aspirations. Our intention was not to impose a fixed theme on the artists, as is the usual approach to mounting group exhibitions. We wanted to honor the great diversity among the artists' backgrounds: some were self-taught, some studied at fine arts schools, and some had spent years overseas. Our only unifying concept was that all of the artists work on contemporary subjects.
The artists represented at VAO showed that Cambodian art deserves to be considered as global contemporary art and not simply as a local phenomenon.
Press Review: ttp://www.realtimearts.net/article/issue72/8100
www.nytimes.com/2006/07/05/arts/05iht-cambart.2120931.html?pagewanted=all&_r=0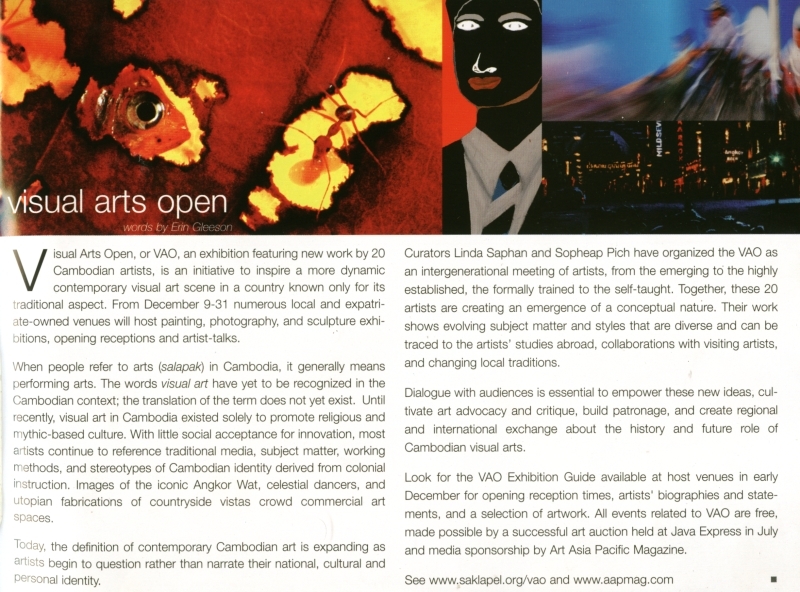 For video Lettre Filmee with Christine Bouteiller:
Click Here