June 2016
INTERLACE https://www.facebook.com/events/1232966570077677/
Artist LinDa Saphan in our current exhibition - "INTERLACE: Three Artists in the Cambodian Diaspora" is organizing a kid workshop this Thursday June 16th at 3:30pm at our Gallery space (314 West 52nd Street, #1).
We will animated 3 activities to show children how artists create artwork: 1- Inspired by the Flamboyant sculpture by LinDa Saphan, children will create art work with everyday material: nails, push-pin, fabric etc. 2- Inspired by Amy Lee Sandford performance, children will learn process rather result. The will colored a pot, tear their drawing then glue the pieces together. 3- Fun and easy- paper folding from Stateless sculpture. Children will learn how folding show/hide differently.
"As an artist, I believe in educating children in the arts. Saint-Exupery said "All grown-ups were children first. But few of them remember it." I sometimes think that my art is a look into my own childhood. "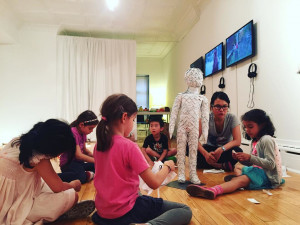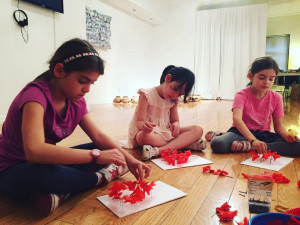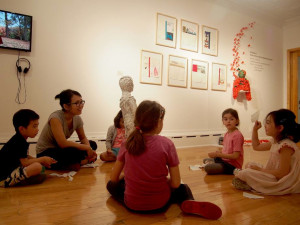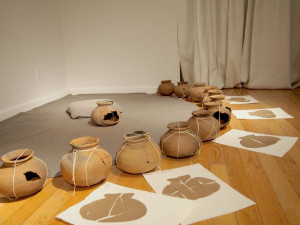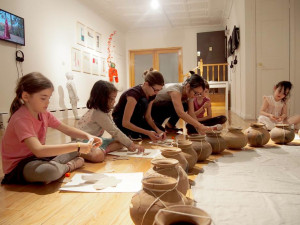 June 2011
Black Butterflies- workshop at Phare Ponleu Selpak, Battambang "We all are small and appear to be the same but as we grow older our true beauty shows. Like a butterfly, we are all different, and beautiful in our own way. The butterfly symbolizes new life from an old one. The black butterfly symbolizes the new strong but subtle life after a period of transformation."
Sunday 11th November 2007
Last session of portfolio. Yet the Selapak Neari wanted to finish their collage started last week. It was indeed interesting to observe how much their always wanted to finish properly a work of art. Afterward, they had to finish their portfolio by learning how to give a title, dimension, medium used and the year. They included their old works and the ones they did with the Selapak Neari program.
Sunday 4th November 2007
The Selapak Neari did a very meticulous workshop with Virginie Noel : collage. It was a peaceful and quiet workshop where each one of them were concentrated on their paper. Cutting, placing and looking for more images. What a mess afterward. Anoli Perera did a lecture on the art history of Sri Lanka. The Stiev Selapak join the lecture. It was captivating and as Chhea mentioned, it is amazing how the artists in Sri Lanka were not afraid of political repression. Indeed the art movement in Sri Lanka is far beyond Cambodia's art scene. May the Selapak Neari and Stiev Selapak start a new way also!
Selapak Neari candidates did the graffiti workshop with the Stiev Selapak. They had to elect which design to paint on the wall. Choices were hard and Chhea won. All Touch wanted was some blue color somewhere. Unfortunately for her, it was a orange and green design. It was quite amazing to see that the young Khmer artists were quite comfortable with the spray painting. The result is surprising for a first graffiti!
Sunday 21st October 2007
Selapak Neari did a graffiti workshop with Théo Vallier. Stiev Selapak join in the workshop because they really feel related to this art expression calling themselves art rebels, they need to learn to do graffiti as an artistic expression. First they all had to imagine and draw on paper their idea. After, they did a learning session on a wall of the exhibition space Gasolina. For the very first time all these young artists discover the spray as an art tool. Learning to paint with a new materials, they had more than just fun, they truly understand a new mode of artistic approach. One by one they went to the wall and tried to paint. After they felt more comfortable to interact with each other. Thank you Théo for sharing your passion and art expression!
Sunday 7th of October 2007
Théo Vallier gave a lecture on graffiti art in France and its history to the Selapak Neari and the Stiev Selapak. He showed examples of different ways of doing graffiti, its deviations and risks. The young Khmer artists were a little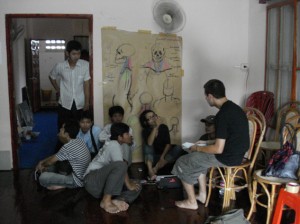 surprised that westerners would go to an abandon building and create works that cannot be sold or may not be seen by the public. Through Théo they know another way of being an artist and expressing one's artistic work!
Sunday 30th September 2007
Selapak Neari did a photography workshop with Chhin Taingchhea and Vandy Rattana. The girls learned about the similarities with photography and painting concerning composition and lighting. After giving a lecture at the space, the girls went on field to learn directly by taking pictures. Through ANA support, it was possible to provide for the training and a disposal camera for each artist. It was wonderful that some artist learned to understand how to appreciate photography as an art. This workshop was not only a theoretical one, they had to go out and take pictures. Their learned about composition, interesting view, being patience to get what is needed and most important with or without flash. From a painter perspective, they learned to see their environment differently through lenses.
After an hour and a half on the field, all of them were quite captivated by their work. All of them have learned and understood the work of their friends photographers and most important its value. None wanted to end the workshop. To keep the good group energy, we all went for a soup in a very typical restaurant. As Veasna noticed, they move around town on charly motorbikes, so they wish to be the charly's angels team!
Sunday 23rd September 2007
The Selapak Neari started their workshop in a very practical way, learning to make their art resume, artist statement and portfolio. Sometimes it is good to start from the beginning so they have tools for the future to meet art gallery for example. Even after the session was over, many stayed till 8pm to finish their artist statement. Thanks to Charis who was an inspiration for the girls… Every Saturday the anatomy drawing class will continue with different models 2007 The anatomy drawing classes continued. This time it was a male model who posed for the Selapak Neari candidates and others. The students stopped giggling or making fun about modeling in swimsuit. Marc and Margherita alternate their teaching days so that students have different views. This is quite important for Ankannitha who wants to teach and Touch who is already teaching drawing at Phare Ponleu Selpak in Battambang. Not only they learned about anatomy drawing but also how a drawing course should be. Margherita del Balzo and Marc Pollak have started their first session of anatomy drawing classes. The Selapak Neari and some from the Stiev Selapak were there for their first anatomy drawing from undressed model. Some of the Selapak Neari candidates were shocked and very shy in the beginning, even though they were not the one in bikinis!
Every Monday oil painting class with Chhoeun Rithy 2007 This course is given to artists who are looking to convert to oil painting, photograph Virginie Noel and myself have enrolled to learn basic oil painting with Khmer artist Chhoeun Rithy.
March 2006
Workshop for an e-zine « Visionz » with Mo-Ling Chui, Erwan Chevalier, Socheathy Ouk, Rattana Vandy and Thorneakea Toun.
To create an art electronic magazine. The idea began with Mo-Ling and the crew was recruited among young artists living in Phnom Penh. This experiment has grown from informal talks and workshops here in Phnom Penh discussing creativity, contemporary art and art education, visual culture and collaborative direction for the future.
Artist meeting with Mo-Ling Chui (multimedia) and the Fine Arts School students of Phnom Penh. Mo-Ling Chui gave a speechto fine art student another vision of art, moreover multimedia art. This seminar was an initiative to broaden art students' vision of contemporary art. Despite the technology obstacle (few students can afford a computer or know how to use one) it was an opportunity for them to question themselves in general what is art?
February 2006 Paper workshop with Margherita del Balzo and the Fine Arts School students of Phnom Penh. Papers in Cambodia are imported mostly from Vietnam. Most of art student have no idea how paper is made. Through this workshop, they learned how to make paper with different material. For this workshop students collected bamboo leaves to make their own paper to take to their drawing class.
January 2006
Artist meeting with Margherita del Balzo (drawings)and the Fine Arts School students of Phnom Penh. This artist talk gave an opportunity for young artists to rediscover a theme very much painted in Cambodia : Angkor temples. Margherita's drawing are a fresh and new way of seeing the ruins of Angkor Vatt.
May 2005
Workshop and exhibition in Yangoon, Myanmar with Eikaza Cho, Than Htay Maung, Lut Lat Ein and Sopheap Pich. This workshop began with the idea of two cultures very much similar with very different interpretations. Three Myanmar artists and two Cambodian artists work on the theme of "i play". Collaboration and exchange was the opportunity to discover each other culture, art and history.
December 2004 and July 2005
Workshop with Douglas Pierre Baulos. Collaboration work in preparation of a duo exhibition.