2015
"Every Record Tells a Story," at Christian Berst Art Brut, 95 Rivington Street, New York.
Original Album Covers on Display with artefacts from the documentary film Don't Think I've Forgotten: Cambodia's Lost Rock and Roll. Special Guest DJs playing rare Cambodian records.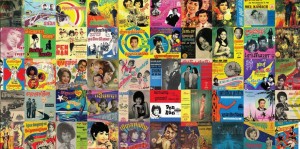 2013
Saphan organized "I Knew Him, But I Don't Know If Well, Or..." a photography exhibition by Gautam Kansara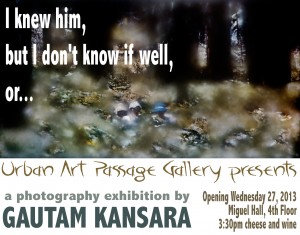 Gautam Kansara (b. 1979, London) is an artist and educator based in Brooklyn, New York. Gautam's video and photographic work is part of many private collections including The Burger Collection, based in Hong Kong and Schlieren, and The Shreya and Swapan Seth Collection based in New Delhi. Gautam has been an artist-in-residence at Smack Mellon, the Lower Manhattan Cultural Council's Swing Space, and the Center for Book Arts, all in New York City. Gautam is an adjunct professor at Manhattan College's Department of Fine Arts, and New York University's Department of Art and Art Professions. Most recently Gautam presented a video installation at the 2012 Dumbo Arts Festival in Brooklyn, New York.
2012
Saphan showcased Mark DeBonis at Urban Art Passage Gallery, September 2012"Emergence of Uncounscious" a painting exhibition by Marc DeBonis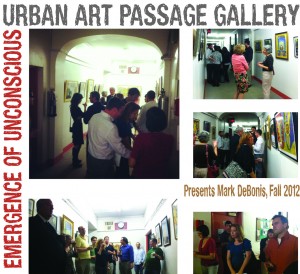 A mathematician by trade, but studied fine arts as an undergraduate.  Continued painting on his own time out of necessity. His hope is to express indescribable internal feelings without being consciously aware of what is expressed - to tap into this unknown side and let it dictate what appears on the paper to the point where he, himself, is surprised by the result. His technique uses paper with any water based paint on which he can apply ink. It is a back-and-forth method of color on ink on color on ink, etc. until satisfied with the result.  To paint from the inside reaching deep down into the subconscious and with as little planning as possible.
 There are many layers of paint and ink one on top of the other which creates rich textures and patterns. Objects change as the picture progresses – things are edited out or introduced until the moment when intuition says it is correct. A personal set of rules is created for laying down color and ink which purposefully avoids conventional norms.
 2008
October 18th | A l'ombre des murs | Under Shadow of Walls
Saphan organized this group exhibition with Chhin Taingchhea, sculptor, Théo Vallier graffiti artist, and LinDa Saphan visual artist at Gasolina, Phnom Penh, Cambodia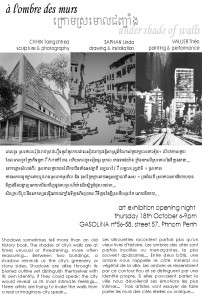 Under shade of walls…
Shadows sometimes tell more than an old history book. The shades of city's walls are at times unusual or threatening, more often reassuring… Between two buildings, a shadow reminds us the city's greenery or stony sides. Shadows are alike through its blurred outline yet distinguish themselves with its own identity. If they could speak; the city would reveal us its most intimate feelings… Three artists are trying to make the walls from a real or imaginary city speak…
November 15th | Men Thoamoda (Unusual)
Saphan launched Stiev Selapak's first exhibition at Gasolina, Phnom Penh, Cambodia
This exhibition has a very important purpose for the Stiev Selapak art group. Their aim is to raise money in order to buy cameras for those who do not own one. Men Thoamada exhibition represents themselves as an independent art group: unusual in their conception of art and their vision of being artist in today's Cambodia. They will exhibit new art works on wonders of life. art rebel exhibitionmen thoamada
November 29th | mean rup mean tuk (with a body comes suffering)
Saphan organized first international group exhibition at the Department of Plastic Arts Ministry of Culture of Cambodia
According to the Buddhist canonical texts, with the body comes suffering. To surpass pain, it is necessary to exceed physical appearance with its limits. Does this ancient precept have a vibration within the actual society such as one has to suffer to be beautiful? A group of artists from different origins (Khmer, American, Australian, Belgian, Chinese, Dutch, and French), various disciplines (drawing, installation, mask, painting, photography, sculpture, and video art) are going to give a new depth and particular feeling to this old saying.
This exhibition allows artists to meet, to stretch their network and knowledge of the artistic community.
2007
February | Portraits de femmes
Saphan organized group exhibition with Chinese multimedia artist Mo-Ling Chui based in Beijing and Qudy Xu Chinese painter based in Phnom Penh, at New Art Gallery, Phnom Penh, Cambodia.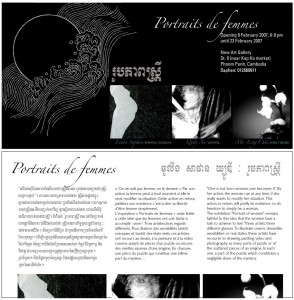 "One is not born woman, she becomes one". By action, a woman can change her situation at anytime if she so desires. This action, in return, justifies its own existence, i.e. the freedom to simply be a woman. The exhibition "Portraits of women" remains faithful to this idea that the women have a great task to achieve: to live! Three artists, three different glimpses. To illustrate dreamlike or real states sensibilities, these artists use drawing, painting and video as manifestations of scattered images of an enigma. In each one, a part of the puzzle constitutes a negligible share of the mystery.