Sisters United in Art
The girls are in the news. They are working hard to create a space for women artists in the very dominant male art scene in Cambodia. Go girls!
Two sisters in contrasting ways are starting to make waves on the Cambodian contemporary art scene. Mark Jackson talks to Veasna and Kanitha Tith at the Chinese House.
"Whatever you want to do, do it now. Don't wait until tomorrow because the chance might be gone." Young Khmer artist Kanitha Kith, 22, is standing beside her model of Boeung Kak Lake, recently exhibited at the Bophana Audiovisual Resource Centre as part of the exhibition 'Still Waters'. She is giving advice to her peers, although she could equally be describing the lake that is the subject of her installation.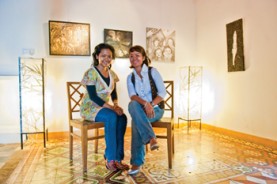 More to read on asialifeguide.com